Delegates from D²4H attended the InnoHK Launch Ceremony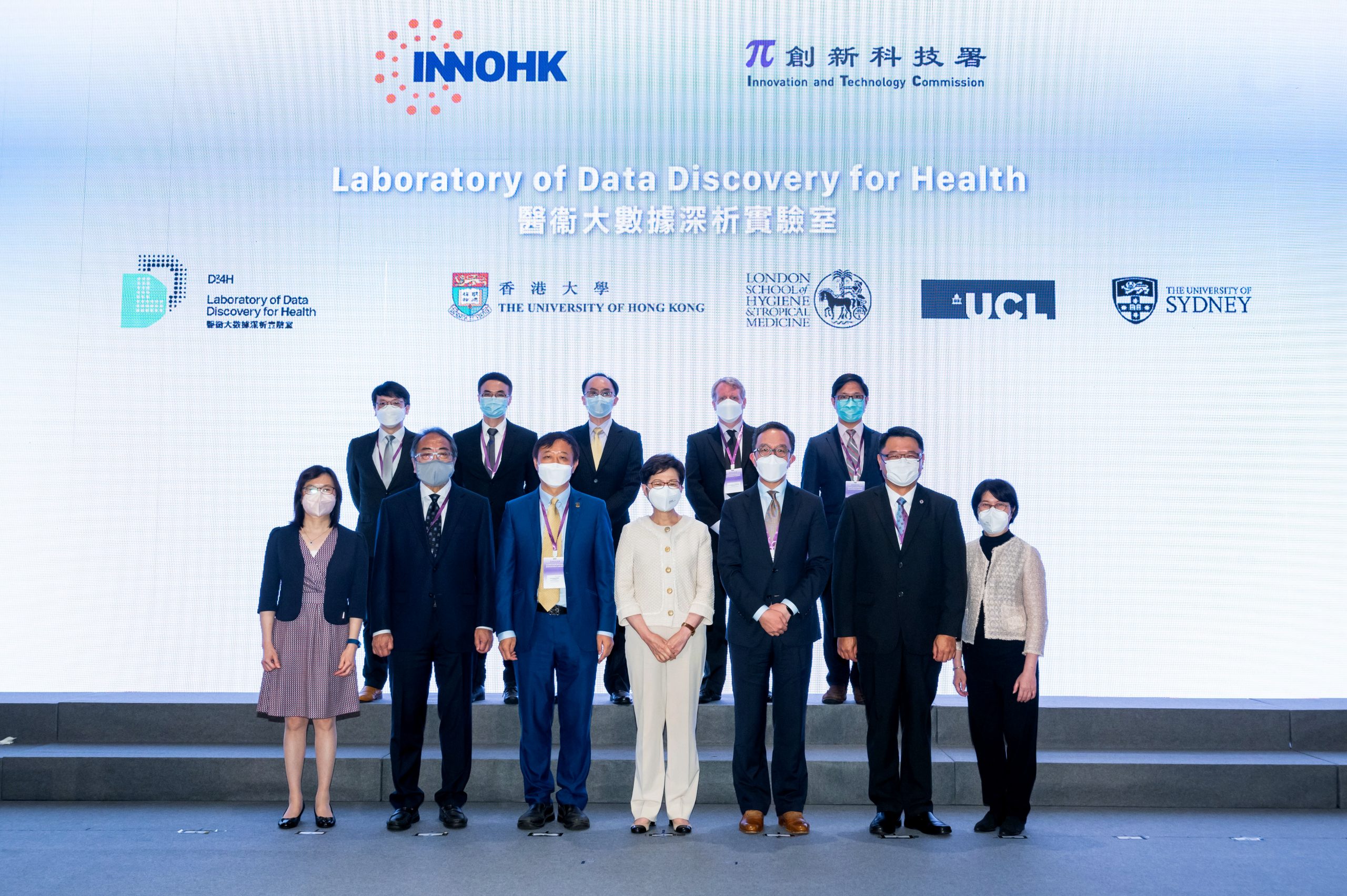 Officiated by the Chief Executive Mrs Carrie Lam, the InnoHK Launch Ceremony, organised by the Innovation and Technology Commission (ITC) of the HKSAR Government, was held on May 25, 2022 at the Hong Kong Science Park. Professor Gabriel Leung, Chief Scientific Officer of the Laboratory of Data Discovery for Health (D24H) and Lead Scientists of D24H's five major R&D programmes were honoured to attend the Ceremony.
The event marks a new milestone in the HKSAR Government's commitment to promoting innovation and technology development in Hong Kong through the InnoHK initiative. Supported by the ITC, 28 R&D centres have been established under the Health@InnoHK and AIR@InnoHK, the first two research clusters of the InnoHK initiative with a view to fostering global research collaboration in healthcare-related, as well as artificial intelligence and robotics technologies.
Being one of the R&D centres established under the AIR@InnoHK, the D24H has been working on five R&D programmes which aims to gather and curate massive, unique data resources and develop deep, frontier analytics that will protect global public health and improve individual healthcare through precision medicine. The D24H is spearheaded by The University of Hong Kong with support from other global leaders in healthcare, including the London School of Hygiene and Tropical Medicine, University College London, and the University of Sydney.
Learn more:
The HKSAR Government Press Release – https://www.info.gov.hk/gia/general/202205/25/P2022052500234.htm
news.gov.hk – https://www.news.gov.hk/eng/2022/05/20220525/20220525_191407_561.html
Speech by the Chief Executive – https://www.info.gov.hk/gia/general/202205/25/P2022052500609.htm?fontSize=1