Hong Kong's first medical research based on real-world data through big data analytics confirmed the effectiveness of vaccines against Omicron BA.2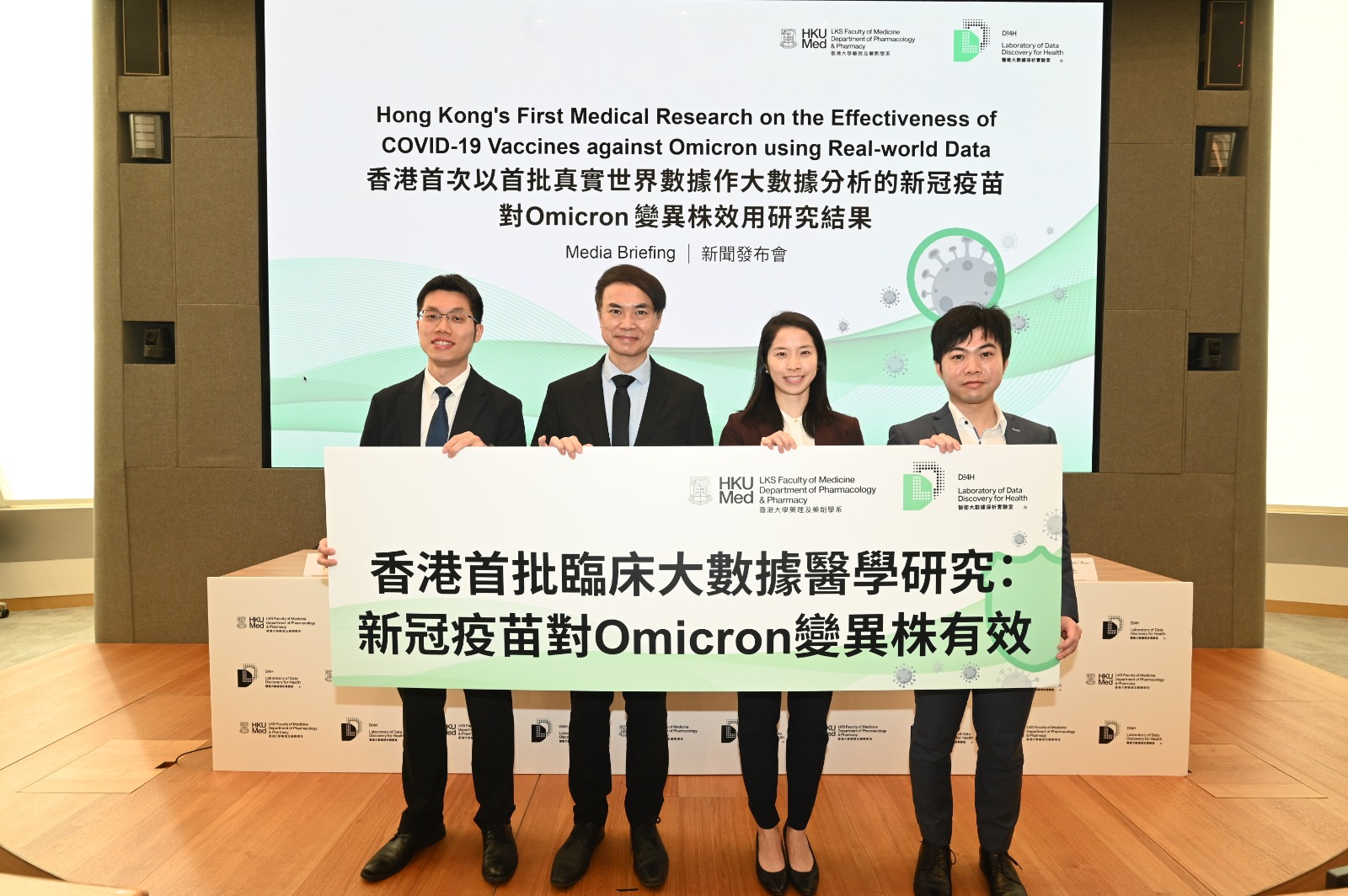 The Laboratory of Data Discovery for Health (D²4H), in collaboration with The Department of Pharmacology and Pharmacy of LKS Faculty of Medicine, the University of Hong Kong, hosted a press briefing titled 'Hong Kong's first medical research on the effectiveness of COVID-19 Vaccines against Omicron using real-world data' on February 28, 2023. The studies were based on analysis of the electronic health and vaccination records respectively from the Hospital Authority (HA) and the Department of Health (DH) in Hong Kong. Research data confirmed COVID-19 vaccinations, namely Comirnaty (BioNTech) and CoronaVac (Sinovac), could effectively protect healthy individuals and patients with chronic diseases against severe complications and mortality. Furthermore, vaccine effectiveness was more pronounced among the elderly population1,2,3,4,5,6. The studies also showed the level of protection increases with the number of doses1,2. Based on these findings, the research team advises the general public in Hong Kong, especially the elderly, to get vaccinated to minimise COVID-19-related infections. Vaccinated individuals should also proactively receive periodic booster shots.
The COVID-19 Vaccination Programme in Hong Kong has been ongoing for over two years. Based on the data from HA and DH, statistics indicated that the uptake rate of the third dose of COVID-19 vaccine has been significantly lower than that of the first two doses. Compared to other adult age groups, the vaccination rate among those aged 70 or above remained low, with only 64.53%7 of those aged 80 or above receiving the third dose.
Professor Ian Wong, Lo Shiu Kwan Kan Po Ling Professor in Pharmacy and Head of Department of Pharmacology and Pharmacy, LKS Faculty of Medicine, the University of Hong Kong; and Lead Scientist of the Laboratory of Data Discovery for Health, explained the importance of these studies, "Large-scale studies utilising Hong Kong's real-world data to analyse overall effectiveness of COVID-19 vaccine can reduce scepticism and hesitancy within the population towards vaccination and vaccine booster uptake. Studies have shown that the elderly and population with chronic diseases, in particular, were most concerned about vaccine effectiveness, side effects, and overall safety."
The research team published six medical studies based on big data analysis of routine electronic health records from the clinical management system under the HA and vaccination records from the DH, covering the Omicron BA.2 outbreak in 2022. The data include healthy individuals and patients with chronic diseases1,2,3,4,5,6.
The study findings include:
a. Single dose of COVID-19 vaccine significantly reduces COVID-19-related mortality and severe complications, while these adverse impacts will continue to decrease with the increasing number of doses1.
b. Among people aged 60 or above who received three doses of COVID-19 vaccine, three doses of COVID-19 vaccine could reduce COVID-19-related hospitalisation, severe complications, and mortality by over 80%. Three vaccine doses could also reduce the mortality for people aged 80 or above was as high as 95%2.
c. The vaccines are also effective for people with chronic diseases, multimorbidity or lower immunity3,4,6.
– The risk reduction for diabetes mellitus patients aged 12 or above, who received three doses of COVID-19 vaccines, in terms of COVID-19-related hospital admission, ICU admission, and mortality ranges from 86.1% to 98.4%. The effectiveness for incident cardiovascular disease (CVD) patients ranges from 46.3% to 91.1%3.
– The vaccines were also effective for patients with chronic kidney diseases in reducing COVID-19-related hospitalisation and mortality (by 44% – 86%) without an increased risk of adverse events. The study sample included people aged 65 and above who were on dialysis or had received organ transplants4.
– Three vaccine doses can reduce over 90% of COVID-19-related deaths for multimorbidity patients6.
d. Hybrid immunity induced by both infection and vaccination would provide similar protection as two priming doses in reducing the rates of COVID-19-related hospitalisation and mortality5.
Dr Esther Chan, Associate Professor of Department of Pharmacology and Pharmacy, LKS Faculty of Medicine, the University of Hong Kong; and Co-Principal Investigator of the Laboratory of Data Discovery for Health added, "The HA is the largest healthcare service provider in Hong Kong. Their comprehensive and representative dataset has provided an incredible platform for vaccine safety and effectiveness research to be undertaken. Although vaccines may not prevent COVID-19 infections, they can significantly reduce severe COVID-19-related complications, hospitalisation, and mortality. More importantly, COVID-19 vaccines offer protection to older individuals. The general public should consider booster shots to enhance protection. Lastly, the effectiveness of hybrid immunity induced by a combination of prior infection and subsequent vaccination is shown to be at least as high as full vaccination with two doses. Therefore, considering that a sizeable proportion of the population has already been infected, the current relaxation of pandemic control measures is supported by scientific evidence."
About the Department of Pharmacology and Pharmacy, LKS Faculty of Medicine, the University of Hong Kong
The Department of Pharmacology and Pharmacy is dedicated to providing education to foster the future leaders in Pharmacy through teaching and research. Our research is highly interdisciplinary with a dynamic research profile spanning from basic pharmacology and drug development, through drug delivery and formulation, clinical trials and big data research, use of medicines by patients, and safe medication practice.
In 2012, the Centre for Safe Medication Practice and Research (CSMPR) was established to foster research and development in medication safety in collaboration with local and international partners. Amidst the COVID-19 pandemic, the department implemented the COVID-19 Vaccines Adverse Events Response and Evaluation (CARE) Programme, a comprehensive surveillance programme, that closely monitors known and potential adverse events of COVID-19 vaccines with the aim to ascertain details of adverse events and inform the public in a timely manner. Alongside the CARE Programme, the Department initiated the HKU Optimising Protection and Effectiveness (HOPE) Programme to explore factors associated with COVID-19 vaccine uptake and effectiveness among different patient groups, including vulnerable and immunocompromised individuals.
These research programmes seek to deliver high-quality research with results relevant and applicable to health in real-world settings, thus optimising and promoting the safe and effective use of medicine in Asia and beyond.
About the Laboratory of Data Discovery for Health (D²4H)
The Laboratory of Data Discovery for Health aims to gather and curate massive, unique data resources and develop deep, frontier analytics to protect global public health while improving individual healthcare through precision medicine. The D24H brings together a multi-disciplinary team of the world's leading scientists to apply Artificial Intelligence and big data in ways that will transform our approaches to understanding and treating disease.
Spearheaded by the University of Hong Kong with support from world-renowned academic institutions nationally and internationally, the D24H is keen to work with health authorities such as the World Health Organization and China Center for Disease Control and Prevention. Through harnessing collaboration across multiple disciplines and sectors, the D24H advances the frontiers of healthcare technology in Hong Kong, the Greater Bay Area, and beyond to produce 'moonshots' that will have tremendous healthcare benefits for global health.
Acknowledgment:
The research team gratefully acknowledges funding supported by the Health Bureau and the InnoHK Clusters of the Innovation and Technology Commission as well as the data from the HA and DH for this batch of studies.
For the press release in Chinese version, please click here.
Gist of news coverage:
Think Hong Kong – https://lnkd.in/g95m2V59
Now News – https://rb.gy/45obkv
RTHK – https://lnkd.in/gT4iGxb5
HKCD – https://rb.gy/f149sp
Topick – https://rb.gy/owylso
Wenweipo – https://bit.ly/3mfOxAg
Sing Tao Daily – https://bit.ly/3KQJhgR
Reference:
1. Yan VKC, Wan EYF, Ye X, et al. Effectiveness of BNT162b2 and CoronaVac vaccinations against mortality and severe complications after SARS-CoV-2 Omicron BA.2 infection: a case-control study. Emerg Microbes Infect. 2022;11(1):2304-2314. doi:10.1080/22221751.2022.2114854
2. Wan EYF, Mok AHY, Yan VKC, et al. Effectiveness of BNT162b2 and CoronaVac vaccinations against SARS-CoV-2 omicron infection in people aged 60 years or above: a case-control study. J Travel Med. 2022;29(8):taac119. doi:10.1093/jtm/taac119
3. Wan EYF, Mok AHY, Yan VKC, et al. Vaccine effectiveness of BNT162b2 and CoronaVac against SARS-CoV-2 Omicron BA.2 infection, hospitalisation, severe complications, cardiovascular disease and mortality in patients with diabetes mellitus: A case control study. J Infect. 2022;85(5):e140-e144. doi:10.1016/j.jinf.2022.08.008
4. Cheng FWT, Fan M, Wong CKH, et al. The effectiveness and safety of mRNA (BNT162b2) and inactivated (CoronaVac) COVID-19 vaccines among individuals with chronic kidney diseases. Kidney Int. 2022;102(4):922-925. doi:10.1016/j.kint.2022.07.018
5. Huang L, Lai FTT, Yan VKC, et al. Comparing hybrid and regular COVID-19 vaccine-induced immunity against the Omicron epidemic. NPJ Vaccines. 2022;7(1):162. Published 2022 Dec 15. doi:10.1038/s41541-022-00594-7
6. Lai FTT, Yan VKC, Ye X, Ma T, et al. Booster vaccination with inactivated whole virus or mRNA vaccines and COVID-19-related deaths among people with multimorbidity: a cohort study. CMAJ 2023 January 30;195:E143-52. doi:10.1503/cmaj.221068
7. Hong Kong Vaccination Dashboard. The Government of the Hong Kong Special Administrative Region. Updated February 8, 2023. Accessed February 24, 2023. https://www.covidvaccine.gov.hk/en/dashboard